The Winner of Last weeks Challenge is......

CAROLE


Please can you contact Me ( Click on the " contact " image on the right),
With your contact Details of where to send the prize too,
If we do not hear from you within 3 days , another winner will be chosen.
(all Winners are Chosen by the Random Number Generator)

Now for This weeks Sponsor....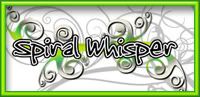 www.spiralwhisper.com

This week Spiral Whisper are Sponsoring us and have Given a Lovely Prize
( I want it myself! )

1 Meg in Hat & Scarf, Rubber Stamp




Challenge 39, Arts Apart Metal


Every now and then we see a little metal being used, but allot of people don't use metal on there works of art, as they think its too "arty"


Nothing can never be too "arty" so get your metal ready and get creating

You can use anything on your work as long as it includes metal somewhere & at least one Magnolia Stamp.


To be entered in to win the Sponsors Prize,


You work Must linked onto the blog by Saturday 11th Oct by 8pm ( UK Time)



We hope you enjoyed this weeks challenge as much as we all did.


Don't forget for a more in depth look at the Design Teams work take a peek at there blogs.