The Winner of Last weeks Challenge is...............

Paula

Please can you contact Me ( Click on the "contact" image on the right),
With your contact Details of where to send the prize too,
If we do not hear from you within 3 days, another winner will be chosen.
(winners are chosen with the Random Number Generator)

This weeks sponsor is...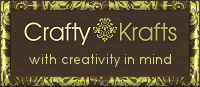 www.CraftyKrafts.co.uk

Little bit about Crafty krafts,
Over at Crafty krafts we are having some Fun & Fabulous Sales going on,
Due to a new "direction" that will take place after Christmas.
So all stock must go, To start off the Clearance
we have been busy making up some Goodie Boxes
This week we have some fab offers on such as:
£135 of goodies for £34.99!!!
There is Currently have 5 Christmas Goodie Packs
and There is a Great Value Ink Pad Goodie set
and Finally if that wasn't all,
We have 25% off everything that is in the "christmas supplies" Section of the store
(just click on the highlighted words above to go direct to the items)
Please Make sure you read all terms on the posts,
No Discount Codes can be used or the goodie boxes
The £34.99 goodie box can only be shipped to the UK(we Class Ireland as UK) & EU ,
Due to weight limits.



Now on to the Price for This weeks Challenge



1 lucky person chosen at Random will receive the below item:


Family Lacing card kit £13.99
Challenge 40, Tabbed Sketch

Below you will see a sketch
Please make your work using the Sketch as your guide,
You can rotate the sketch & even resize the elements if you would like to,
But do not move the elements around,
As long as we can still see the original sketch layout and it can be easily recognised then that is fine!
Please remember your work must include at least one Magnolia image.

To be entered in to win the Sponsors Prize,


You work Must linked onto the blog by Saturday 19th Oct by 8pm (UK Time)






We hope you enjoyed this weeks challenge as much as we all did.

Don't forget for a more in depth look at the Design Teams work take a peek at there blogs.